Idea totally stolen from
distant_flicker. I can't really pass up a chance to take pictures of my books.




Top Shelf: Feminism; Second Shelf: Cooking, Reference, Science, Non-Fiction; Third Shelf: Non-Fiction, Comics, Art Reference (with a few empty journals/sketchbooks at the far end); Fourth Shelf: Oversize books, Children's books; Fifth Shelf: Oversize books, Children's books, Miscellanea.




Top Shelves: Art and Oversize Fiction (also a few Oversize Comics...damn oddly-sized books messing with my organization); Lower Shelves: Fiction alpha by author.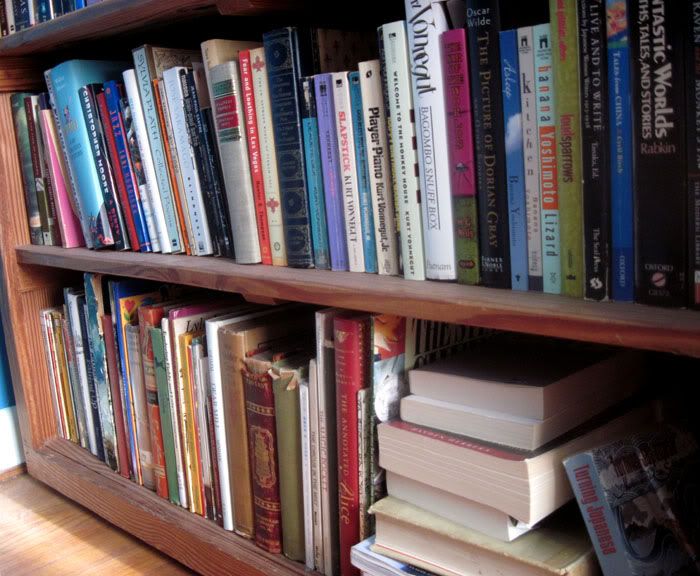 Fiction. Bottom Shelf: Fiction, Children's Books.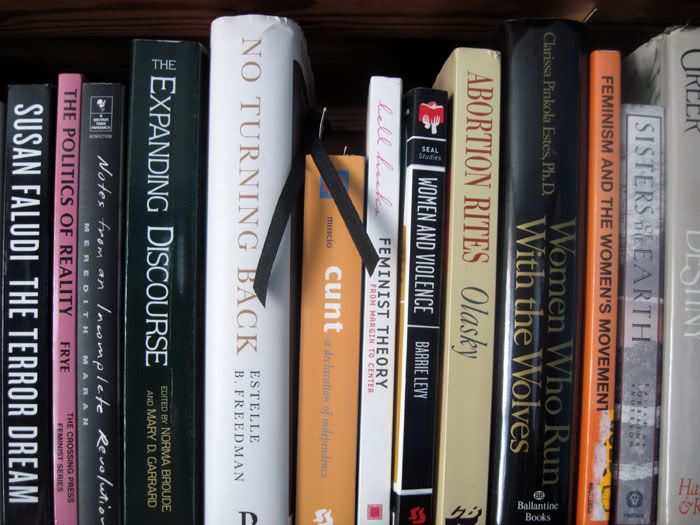 FEMINIST LIT! It gets its own shelf. Here's a close-up of part of it.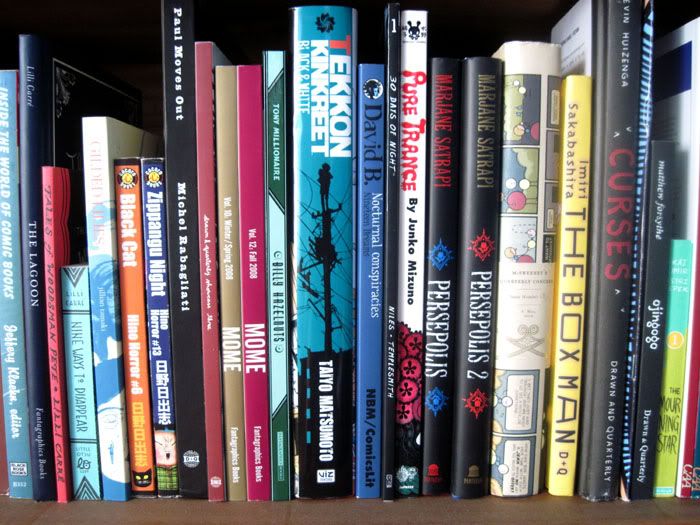 [Some] Comics! I keep most of my trade paperbacks in my comics box. These are basically the ones that wouldn't fit in a sleeve, or that I just felt like putting on the shelf.




More Comics! This fall I finally upgraded to a legit storage box for my comics, in place of the bootleg taped-together thing I had created to hold them. Much better. Two of my favs here by phenomenal illustrator Genevieve Castree.




Some more favs from my comics collection: Partyka comics by Shawn Chang. Screen-printed covers and pages, hand-sewn bindings.




New books, from the past month. Top to bottom, left to right:
Ganges 3 by Kevin Huizenga (Ganges 1 and 2 tucked in among the oversize comics)
Art Forms in Nature by Ernst Haeckel
Insects of Surinam by Maria Sibylla Merian (this is a seriously amazing book)
The Bento Bestiary by Ben Newman
A Graphic Cosmogony by Various Artists (another seriously amazing book--I think anthologies tend to be under-whelming but this one is excellent)
Hi-Fructose Collected Special Edition Vol. 2 (Special Edition Vol.1 hidden among the Art/Oversize books)
Rift by James Jean (neat little accordian-style book that can be folded to create a series of different scenes)




Two unique books that I really like. Bottom: Brooch by Yoshie Watanabe and Yayako Uchida. I got this book in London from the bookartbookshop; easily one of the most amazing places I visited while there, and also one of the smallest! Anyway, about the book: it's composed entirely of thin, tissue-paper like pages, each with an illustration. Since the paper is so thin, it creates a layered effect that changes as you turn the pages. Top: The Circus in the Mist by Bruno Munari. I found this one at Goodwill--couldn't believe it when I pulled it out of the pile of kids' books there. It's definitely seen better days, but I just love it because it's so cool. More pictures of the inside at the Amazon page, but also a spread here...




Similar concept to "Brooch" except these pages are significantly thicker ("mist-like" I guess).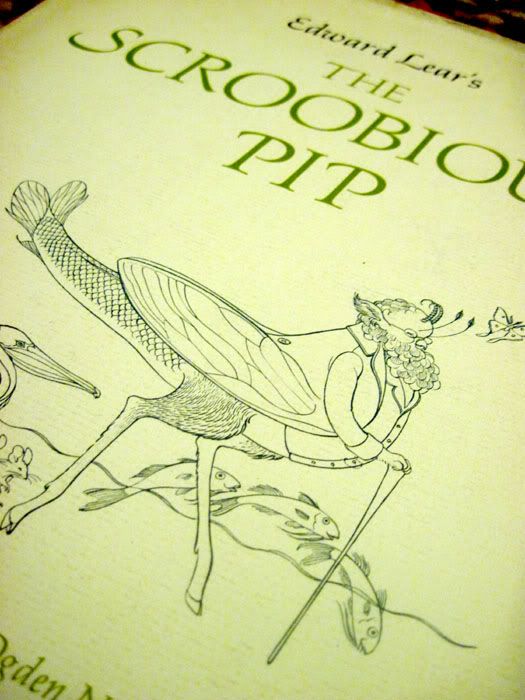 Another favorite: The Scroobious Pip by Edward Lear, Illustrated by Nancy Ekholm Burkert. I love nonsense poetry...and pretty pictures.




4

The Scroobious Pip sat under a tree
By the silent shores of Jellybolee--
All the insects in all the world
About the Scroobious Pip entwirled,
Beetles and [bookworms] with purple eyes,
Gnats and buzztilential flies,
Grasshoppers, butterflies, spiders too,
Wasps and bees and dragonflies blue,
And when the gnats began to hum
[The welkin] bounced like a dismal drum.
And every insect curled the tip
Of his snout and looked at the Scroobious Pip.




----------------

So those are my books! I only took specific pictures of a few of them because if I started photographing every one of my "favorites" this post would be a million pages long.